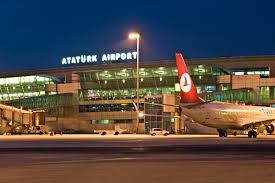 By Brianna Crosby
An attack on the largest and busiest airport in Turkey- Ataturk, located in Istanbul-left 239 people injured, with 41 in the intensive care unit, and 42 dead. The number of dead is continuing to rise.
Three suicide attackers open fired at the Istanbul airport late Tuesday, June 28th. Two of the three, open fired in the international terminal. Following police fire, the same two detonated separate suicide bombs, shattering the terminal around them. Shortly after, a third attacker set off yet another suicide bomb in the parking lot, by the arrival gates.
Though no terrorist organization has claimed responsibility for the attack, Turkish President, Recep Tayyip Erdogan believes that it was a militant group. Turkey has a brutal history of being bombarded by some of the worst terrorist organizations. Turkish officials, including President Erdogan, believe that the attacks were the work of the Islamic State of Iraq and the Levant (or ISIS/ISIL).
The attack on the third largest airport in Europe left people of many different nationalities deceased. The death toll of Turkish descent, was the largest. Following behind were those of Saudi, Iraqi, Chinese, Jordanian, Tunisian, Uzbek, Iranian, Ukranian, and Palestinian descents.
Some flights resumed as early as five hours after the attacks, leaving critics to wonder why the airport would open so soon after such a tragic event. Some in the airport during the early hours of its reopening could still smell smoke, see blood splattered on the walls, and were forced to walk over shards of glass.
President Obama spoke on the incident, saying "we will not rest until we have dismantled these networks of hate that have had an impact on the entire civilized world." After Orlando was devastated by the attacks of a member of ISIS, this attack should prove as yet another reason for global powers and members of the international communities to come together to defeat these terrorist organizations.
Turkish President Erdogan declared Wednesday, June 29, a national day of mourning for the Turkish people.