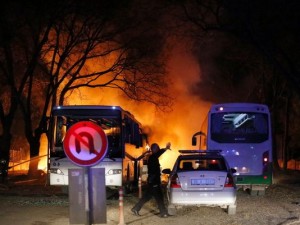 By Virginia Villa
A large explosion occurred Wednesday in the Turkish capital of Ankara in what military officials are calling an act of terrorism. Authorities believe that the origin of the explosion came from a vehicle that may have had bombs inside of it. The explosion hit vehicles carrying military personnel at an intersection during rush hour in an area near military headquarters and government buildings. As of now, 28 people have been killed and 61 injured by the blast according to Turkish officials. Some of the victims were civilians and six of those killed were Turkish soldiers. Omer Celik, the leader of the Justice and Development Party (also known as the AK Party), tweeted Wednesday that the explosion was an act of terror, though this is not yet confirmed and no group has claimed responsibility for the explosion.
Whether or not Wednesday's explosion was actually an attack plotted by a terrorist group remains to be discovered, but the location and timing of the explosions suggests that the explosion likely was not a mere accident. Turkish government officials who are calling the explosion an act of terror vowed to respond swiftly and fiercely to defend the state. Turkey launched airstrikes on Wednesday night targeting a Kurdish separatist group in Iraq known as the PKK, who have denied involvement in the attack.
Turkey has been the target of many attacks in recent months, including a suicide bombing last month that killed ten people. Ankara was bombed in October about a month before the attacks in Paris occurred. 102 people were killed and over 400 were left injured as a result of the twin suicide bombings. This was the deadliest assault on the Turkish state in its history, and it was later discovered that the bombers had links to ISIS.