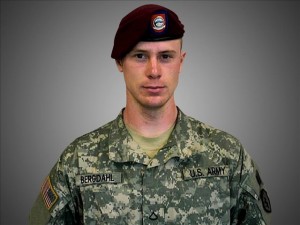 By: Tiffany Walker
Bowe Bergdahl was an Army Sargent for the United States and he is currently twenty-nine years old. Bergdahl walked off his military post in Eastern Afghanistan in 2009, and, consequently, the Taliban captured him. The Taliban held Bowe for five years, until President Barack Obama made a controversial prisoner swap: five Taliban detainees held at Guantanamo Bay for Bowe Bergdahl.
Bowe Bergdahl's attorney has stated that his client suffered torture and extreme isolation during his five years with the Taliban. Some of the details of Bowe's captivity and disappearance are murky. According to Bergdahl, he intentionally left the base in order to show the problems with his superiors. He hoped his disappearance was spark an investigation into the misconduct of his superiors. Bowe stated that he did not plan to be captured by the Taliban, let alone to be held for five years.
Bergdahl's release was controversial because many people believed that the swap was not fair. Moreover, many troops were injured or even killed while looking for Bergdahl. Many in the military were angry when they heard that Bowe Bergdahl might face a light punishment for his misconduct. Bergdahl supporters believe that he should face a lighter sentence because he was already held for five years, and they argued that Bergdahl is not a Taliban sympathizer.
The head of the Army Forces Command in North Carolina, General Robert Abrams, referred Sgt. Bergdahl to a general court-martial. A general court-martial consists of at least five members and a military judge. The general court-martial is one of three different types of court martial; this type of court-martial is used to try more serious offenses, and can impose a sentence of dishonorable discharge or even death. Bergdahl is currently being charged with desertion and misbehaving before the enemy. These are serious charges; Even though Bergdahl was returned to the United States, he still may never get his life back.