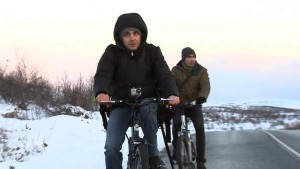 By: Tiffany Walker
The migrant crisis in Europe has caused refugees to get more creative in their search for asylum. New reports have stated that refugees are trekking themselves to northern Russia in order to reach Norway via the Artic border crossing. Hundreds of migrants have now been crossing into Norway each week.
Word of this Artic passage into Europe spread on social media causing increased alarm within Norway over the influx of migrants. Many refugees and migrants have opted out of the traditional Mediterranean passage into Europe believing that Russia's border with Norway is safer and cheaper. However, the migrants still have to make their way over 100 miles north into Russia. Russian law also bans foot traffic at the border with Norway.
Additionally, Norway fines cars that transport migrants into Norway. So migrants have begun to ride bicycles into Norway. Due to the increased need of bicycles, Northwestern Russia has created a used bicycle trade in order to help refugees to cross into Norway. Upon arrival into Norway, most of the bicycles are confiscated. The bicycles fail to meet Norwegian safety standards and therefore taken by the government.
The Norwegian government has been relatively welcoming toward the refugees. Reports have stated that about 2,000 migrants have entered the country and have then received temporary refugee status. However, that welcoming attitude has begun to change; Norwegian politicians are now insisting that Russia understands that they need to stop allowing migrants to cross over the Russian border.
The Norwegian government has issued a stern warning to migrants a few weeks ago due to the increased number of Afghan migrants flooding into Norway. Norway's Directorate of Immigration stated that Afghans seeking asylum in Norway has surpassed Syrians for the first time. The Norwegian government is only directly their threats of deportation towards those who have legal papers to reside within Russia.