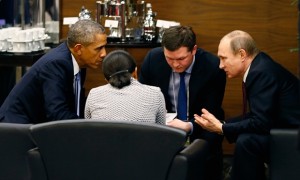 By: Tiffany Walker
At the G20, or the Group of Twenty, Summit meeting of 19 countries' finance ministers and Central Bank Governors. The G20 is made up of Argentina, Australia, Brazil, China, France, Germany, India, Indonesia, Italy, Mexico, Russia, Saudi Arabia, South Africa, South Korea, Turkey, the UK, the US, and the last seat is held by the European Union.
The G20 Summit is used to establish an agenda and lead discussions between these countries regarding various topics. This years G20 Summit was held in Belek, Turkey. One major highlight from this years G20 Summit was a meeting between President Barack Obama and Russian President Vladimir Putin regarding the rising tensions in Syria following Russia's air campaign this last month..
Both leaders agreed that the United Nations would conduct negotiations between the Syrian rebels and the Assad regime after a ceasefire had been established. Moreover, both presidents agreed that there is a need for a Syrian-led political transition of power.
The informal meeting between the US and Russia included a discussion of the crisis in Ukraine. President Obama reiterated his support of the Minsk Protocol, which is an agreement to halt the way in Donbas, Ukraine, signed by Representatives from Ukraine, Russian Federation, Donetsk People's Republic, and Lugansk People's Republic. The agreement included eleven key points including an immediate bilateral ceasefire, withdrawal of heavy weapons by both sides, and monitoring of the ceasefire and weapons withdrawal.
The sideline meeting between Obama and Putin came at a vital time, with rising tensions in Iraq and Syria, the Paris attacks, and the continuation of the Ukraine crisis. The two of the world's most powerful leaders would achieve more together than a part. The United States and Russia have not seen eye to eye in the past year, but with rising global threats from ISIS the two countries need each other.