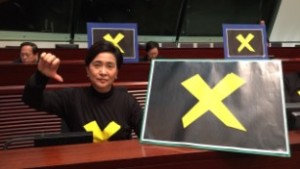 By: Charles Ayers
This Wednesday, Hong Kong's legislature is scheduled to vote on the controversial Beijing election plan that would require candidates for Hong Kong's chief executive position to be approved by at least 50% of a pro-mainland nominating body before ever facing voters. Pro-democratic legislators have vowed to veto the proposal, claiming that it fails to reach the standard of the "one person-one vote" system they were promised. The proposal has been the cause for numerous student-led protests over the past year, and Wednesday's decision is expected to bring further unrest to the city.
In anticipation, Hong Kong officials have warned against violence and security forces have become increasingly present leading up to the vote. Police arrested 10 individuals for building explosives, claiming that they were members a radical political organization. Student leaders have speculated that the arrests may have been staged. Tensions even entered the soccer field when supporters of a local Hong Kong team booed and turned around when the Chinese national anthem was played.
Given that 2/3 of the legislature is needed to approve the election changes, the proposal does not seem likely to pass. Additionally, public opinion polls have shown diminishing support for the Beijing plan. Unfortunately for pro-democracy activists, such a development would keep the current system in place; the chief executive would continue to be chosen by a body of Hong Kong's elites. These activists will then be faced with the prospect of obtaining concessions from a mainland government that portrays democracy and human rights as corrosive foreign concepts with increasing frequency.