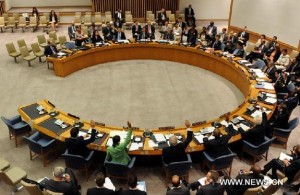 By: Novpreet Bajwa
On Wednesday, February 18, 2015, the U.N. Security Council held an emergency meeting to discuss Libya and Egypt's recent request for lifting the arms embargo that was placed on Libya in 2011 after Maummar Ghadafi's rule ended.
After the conclusion of the 2011 Civil War, Libya has entered into another vicious civil war in which two governments have risen, one based in Tobruk that is internationally recognized and another in Tripoli that is seen as a local Islamic extremist group. With the country divided, groups have begun pledging allegiance to the likes of ISIL and taking part in terroristic activities. It has also been suggested that one of Libya's terrorist groups, Ansar al- Sharia, is working with ISIL to expand ISIL's agenda in Libya.
The request for lifting the embargo came after Libya's ISIL beheaded 21 Christian Egyptians on Sunday, February 15. This heinous act prompted Egypt to carry out airstrikes in Libya, targeting areas in which ISIL is believed to be based. With Egypt backing Libya, both countries believe that the lift of the embargo will help rebuild Libya's national military and help eradicate the radical Islamists that are causing havoc in the country. Egypt also called for an international intervention with foreign countries providing militaries to fight the terrorist groups but it wasn't formally requested in the meeting.
While both Libya and Egypt believe this lifting will certainly improve their chances of confronting ISIL, the UN is unsure about it. Many members believe that once the arms embargo has been lifted, the weapons might fall into the terrorist hands since they have a strong hold in the country.
Although an international military intervention wasn't requested in the meeting, it has gained support from Italy, which believes that through Libya, ISIL can infiltrate into Italy since it is only 300 miles from Libya. Italy's foreign minister, Paolo Gentiloni, has called for a global effort to help Libya before ISIL expands into Europe. The European Union is also making efforts to protect the financial institutions in Libya since it has been suggested that ISIL is trying to find ways to control Libya's oil business so it can fund its terrorist activities.
It is hard to tell what the UN plans to do as a result of ISIL's actions on Sunday. Although ISIL's pressure is mounting, the next steps of U.N. have to be taken with careful thought as the lifting of the ban could worsen the Libyan situation as it predicts.