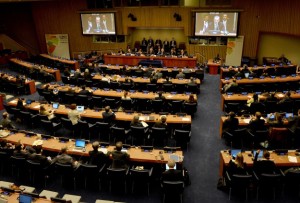 By: Luke Gould
Adjusting to a changing climate could potentially cost three times as much as previously estimated, even if nations are able to keep temperatures from rising to dangerous levels, warns a UN report released on Friday.
The United Nations Environment Program (UNEP) reported in the "Adaption Gap Report" that the cost of dealing with increasing droughts, floods, and typhoons annually could be triple that of prior assessments of $70 to $100 billion. This is especially problematic for developing nations which will lack the funding to deal with an increasing amount of natural catastrophes unless assisted by rich countries and the international community at large.
"The report provides a powerful reminder that the potential cost of inaction carries a real price tag. Debating the economics of our response to climate change must become more honest," said Achim Steiner, Executive Director of UNEP.
This report and Steiner's comments come as representatives of almost 200 countries meet in Lima, Peru for the next portion of UN climate talks. These talks are the precursor to set the groundwork for a new global agreement on climate, to be adopted in Paris next year.
The report continues by warning that the cost of adjusting to more natural disasters could potentially climb even higher. As the scope of natural disasters increases with additional time and even higher temperatures, more extensive planning and action will be necessary to protect communities. The report further stresses the need to cut greenhouse gas emissions in order to avoid the trend of disasters and the costs associated with them.
This ongoing situation demonstrates part of a greater rift between developed and developing countries in regards to action on climate change. Even as the UN seeks solutions for these problems this divide is deepening.  More developed nations have focused attention on cutting greenhouse gas emissions. Less developed nations are seeking financial and technological aid.
In this case, as with many others like it, waiting to act will be more costly than not. It is the opinion of many that developed and developing nations must be prepared to adapt by measurably cutting their carbon emissions. Well off nations should additionally send assistance to other nations in order to head off these types of catastrophes.
According to Jan Kowalzig, policy advisor for Oxfam, "The report leaves no doubt, adaptation must be at the heart of a long-term agreement developed here in Lima. Communities around the world are drastically unprepared for the costly impacts of climate change, which is already destroying lives and livelihoods every day."
Photo Courtesy Of Worldbulletin