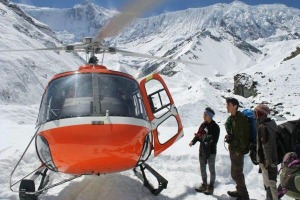 By: Liana DeMasi
A series of blizzards and avalanches have left numerous people dead and many more missing in Nepal's Himalayas. Search teams discovered more bodies on Thursday making the death toll 27. Nepal Authorities believe that the death toll will continue to rise as the search and rescue teams dig through the shoulder-high snow. But, among the dead there were, so far, 64 survivors who were rescued on Thursday. They survived by seeking refuge in a small tea shop that was on the trekking route. The route, the Annapurna Trail, is 100 miles from Nepal's capital, Katmandu. It is said that this trail is considered easy and so it is often frequented by inexperienced trekkers, making the storms even harder on them.
Among the survivors was a young Israeli woman. She sought shelter at the tea shop as well but soon after tried to make her way to the bottom of the trail. This attempt got her stuck in the snow from the waist up, had her walking around dead bodies, including some of her friends and had her so fearful for her life that she told authorities that "[she] was sure [she] was going to die." Luckily, she did not but she suffered from hypothermia, shock and loss.
​The blizzard that affected most of the trekkers was caused by the tail end of a cyclone in Northern India. The storm caused a series of avalanches. One avalanche killed 8 people and other killed 5. Many scientists believe that global warming caused the storms and avalanches. Countries around the world have experienced extreme weather conditions over the last few years and Nepal is not exempt.
In the wake of the horrifying storms, many are still missing and the search and rescue teams are hoping to bring out as many survivors as they can, but as the days go on the likelihood of that gets smaller and smaller.