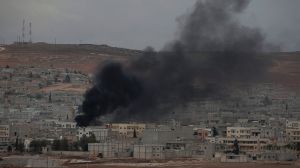 By: Luke Gould
American aircraft dropped weapons and other supplies to rebel Kurdish forces fighting Islamic State jihadists in the city of Kobani, situated near the Syrian border with Turkey. The aid comes despite the Turkish government vocal opposition to supplies being provided to certain groups of Kurdish fighters.
The supplies, delivered Sunday, were provided by Iraq's Kurdistan Regional Government (KRG) and dropped by the American Air Force. A statement by US Central Command said C-130 aircraft "delivered weapons, ammunition and medical supplies that were provided by Kurdish authorities in Iraq and intended to enable continued resistance against ISIL's (IS) attempts to overtake Kobani."
Assistance to Kurdish fighters in Kobani comes following weeks of intense fighting and increased American airstrikes against Islamic state forces and infrastructure. The aid is the latest in the escalation of American involvement in the region. Close to a dozen airstrikes took place overnight Saturday, preceding the weapons and supply dumps. More than one-hundred strikes have taken place in recent days.
American military aid to Kurdish Forces, People's Protection Units (YPG), in Syria has been fervently opposed by Turkish President Tayyip Erdogan. Turkey opposes arming YPG fighters because of their affiliation to the Kurdistan Workers' Party (PKK). The PKK has waged a decades long insurgency in Turkey and is considered a terrorist organization by the US and NATO.
"It would be very, very wrong to expect" the Turkish government "to openly say 'yes' to our NATO ally America giving this kind of support. To expect something like this from us is impossible," said President Erdogan earlier in the day Sunday.
Officials said that Erdogan was notified in a phone conversation with President Obama, on Saturday, of the US' plans to deliver aid to the embattled Kurds.
Turkey has faced sharp domestic and international criticism for its lack of action regarding Kobani and the Islamic State threat at large. Seemingly in response to that criticism, Turkey's Foreign Minister, Mevlut Cavusogl told reporters in a press conference that "we never wanted Kobane to fall." He informed the public that Turkish authorities were assisting Iraqi Kurdish forces, represented by the Kurdish government in Iraq, to cross into Syria so as to fight IS.
The US and Turkey continue to engage in talks regarding how best to combat IS. US officials have expressed understanding with Turkey's position towards certain Kurdish groups. Yet, as one official put it, the American administration believes both the US and Turkey "face a common enemy in ISIL (IS) and that we need to act on an urgent basis."
Photo Creditn- AP Photo/Lefteris Pitarakis