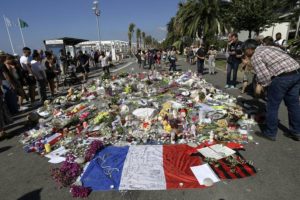 By Shannon Emmett
Bastille Day, a day of joyous celebration commemorating the beginning of the French Revolution, resulted in an all too familiar feeling of devastation and loss when a lone man drove a lorry truck through a crowd of people in the coastal city of Nice, France. Just after a celebratory display of fireworks Thursday night on the Promenade des Anglais, 84 were killed and hundreds more injured as a trouble 31 year old Mohamed Lahouaiej-Bouhlel swerved from side to side in a pedestrian-only area at 50 miles per hour.
As of now, known victims include Fatima Charrini, who was slain within moments of the rampage, assistant head of Nice border police Jean-Marc Leclerc, father Sean Copeland and son Brodie (U.S.) who were vacationing in Nice. So far, only 35 of the 84 victims have been identified, and local hospitals are still caring for children in intensive care whose parents may have also been victims of the attack. Relatives and neighbors are growing angrier with how slowly the statuses of their loved ones are being released.
After firing at police officers with an automatic pistol from inside the lorry truck, Lahouaiej-Boulel was shot dead by police. Also in the truck with him were two replica assault rifles, and empty grenade, ID, cell phone, and bank card. Though these items made identifying the man responsible for the attack simple, it was information found on his computer that helped police delve further into who this man truly was.
Not only did his neighbors cite him as having a history of violence, mental instability and a drinking habit, but his browser history demonstrated a recent interest in radical Islamist movements. Since July 1, Mohamed's internet searches included the Koran, nasheeds (or jihadists propaganda chants) and the Islamic holiday of Eid al-Fitr. Investigators also found disturbing images of Osama bin Laden, Mokhtar Belmokhtar, the Islamic State flag, and the cover of an issue of Charlie Hebdo. Prior to the violent attack, he had researched Bastille Day, fatal traffic accidents, and other recent events in Orlando, Dallas, and Magnanville, Paris. In addition to these internet searches, the attacker drove to Promenade des Anglais twice, rented the 20 ton lorry truck on July 4 and picked it up on July 11. He also reportedly began growing a beard just a week before the attack, which he told friends was for religious reasons, and shared graphic videos with friends of beheadings committed by ISIS, showing no signs of the disturbance or shock most experience upon viewing such material. Despite this recently developed interest, there is no evidence that Mohamed was associated with or involved in any radical Islamic groups.
His troubled past increased in severity as time went on. Neighbors from his previous residence and birthplace in Tunisia recall him as a normal person with a wealthy family until he was thrown out of his home after abusing his wife, who was questioned by police but released shortly after. In 2010 and 2016 police intervened in incidents of violence and petty theft in which Mohamed was involved, and in March he had a postponed sentence for assaulting a motorist with a wooden pallet. He visited a psychiatrist only once, in 2004, when his behavior grew increasingly psychotic and his aggressive nature more outward. After only one appointment, Dr. Chamseddine Hamouda feels that this incident cannot be blamed on mental disorder, and that surely other events in his life since their last meeting had influenced him to act in such a violent and destructive manner.
It is still being determined whether or not the attacker was working alone, but 4 individuals including an Algerian couple suspected of aiding in logistics of the attack have been arrested and are being questioned regarding their involvement. While driving, Lahouaiej-Bouhlel sent a text message (recovered on his phone by police) requesting more weapons, but the recipient of the message has yet to be identified.
The attack occurred just hours after President Hollande announced an eventual lift of France's state of emergency later in July. The country is still recovering from the events in Paris, and as this attack has been labeled an act of terrorism, it has undoubtedly instilled again some of the fear French citizens have been trying to shake.
A powerful memorial service was held on the promenade which not only demonstrated the country's remorse for those lost in the attack, but the people's anger with the French government and their handling of the recent 3 terror attacks in the last 18 months. As over 200 have been killed in these 3 attacks alone, people are beginning to demand change in security. Applause emerged and fists pumped powerfully during the national anthem. In contrast to the cheering that resounded in honor of emergency personnel who responded to the attack, PM Manuel Valls was met with boos. An increased police presence was requested for the celebration on the promenade in light of the previous attacks, but Valls failed to grant the request. Many are calling for his resignation in addition to stricter security and anti radical legislation.