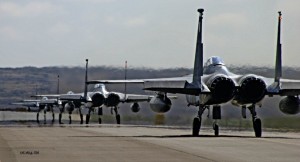 By: Tiffany Walker
The recent escalation between two militarily capable countries has reminded the world of Russia's power and aggression. The recent back and forth between the two countries began with the Russian air campaign in Syria. Turkey accused Russia of targeting moderate rebels instead of the Islamic State, the group that was supposed to be Russian targets. Russia did not stop there; Russian fighter jets violated Turkish airspace as well as Norwegian airspace. NATO finally stepped in and warned Russia of the consequences of their actions.
The tension came to a pinnacle with the downing of a Russian jet by two Turkish F-16s in late November. Turkey claimed that the Russian plane crossed into its airspace; however, Moscow maintains that the jet remained within Syrian airspace. There have been increased threats from both Ankara and Moscow. Russia has even imposed sanctions on Turkey, specifically on Turkish tomatoes. The sanctions were imposed three days after the downing of the Russian fighter jet. Russia's agriculture minister stated that about 15 percent of Turkish produce did not meet Russian safety standards. In reaction to this escalation, the United States has placed six F-15C aircrafts in Southern Turkey.
What does the tension between Turkey and Russia mean for the coalition against ISIS? Well firstly, the idea of a grand coalition against the Islamic State is beginning to crumble because two of the most influential countries in the coalition cannot play together fairly. Second, if tensions turn into a hot war then there is potential for a World War III. Turkey is a NATO member, and according to article 5 of the NATO treaty, which states an attack on one member is an attack on all members; this is the same article 5 that the United States used to create a NATO coalition in Afghanistan in 2003. Lastly, if the tension between Russia and Turkey escalates into war than the only winner is ISIS.