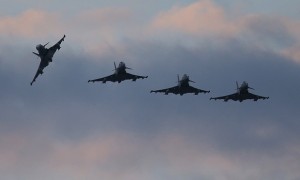 By: Tiffany Walker
The fight against ISIS has gained urgency in the weeks following the Paris attacks. France, the United States, Russia, and now the United Kingdom have begun airstrikes against the terrorist group. However, targets of the airstrikes have transitioned away from personnel to objects, more specifically to oilfields. ISIS or Daesh makes most of its money from the sale of oil on the black market. According to the British defense secretary, Michael Fallon, the strikes had hit the al-Omar oilfield. Other coalition forces have been reported to target the al'Jafra and al-Tanak oilfields. ISIS seized these oilfields during the group's rush into Iraq last summer.
The oilfields are a key component in the structure of ISIS. The Omar oil field is particularly special because it represents over ten percent of the group's potential revenue from oil. According to a BBC security correspondent the Omar oilfield was only one of eight oilfields targeted by the coalition forces. Royal Air Force Tornadoes conducted the airstrikes; two more Tornadoes and six Typhoons have arrived at an air base in Cyprus following the first wave of strikes. The White House congratulated the U.K. on the airstrikes.
A newspaper in Damascus was not as congratulatory, criticizing Western engagement that has not coordinated with Syrian President Bashar al-Assad. Syrian officials are pushing the coalition forces to coordinate with the Syrian government. However, Syrian activists feel differently. Opposition groups feel let down that the West will not produce support to overthrow Assad.
The fight against ISIS has changed trajectory in a positive direction. Money is the foundation to ISIS, without funding the group could not continue its terror campaign. Many experts have cited differences that make ISIS more lethal than other terrorist groups such as Boko Haram. The main difference is the amount of wealth ISIS has generated is astonishing. By targeting ISIS's main source of revenue, the coalition forces will be able to cripple the group.