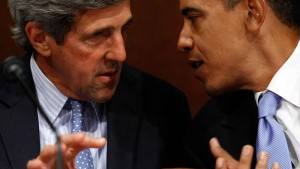 By Thomas Lodico
Senator Chuck Schumer's announcement last week that he would not be supporting the Iran deal has caused an uproar from the Democratic Senate Caucus.  As President Obama, Secretary Kerry, House Minority Leader Nancy Pelosi and other top ranking Democrats come out in support of the proposed Iran nuclear agreement, the opposition to the agreement from the large majority of Republicans and some Democrats has also continued to grow.
The most vocal supporters of the Iran Deal in the Democratic Party, include President Obama and Secretary Kerry, who helped negotiate the deal to stop Iran from obtaining a nuclear weapon. The President has been particularly vocal in getting support from his own party, talking to House and Senate Democrats, even while on vacation, attempting to ensure that they support the deal and vote no on a bill that would reject the agreement between the P5+1 and Iran as proposed to the international community.
Secretary Kerry, on the other hand, has been playing defense ever since the deal was put forth back in July. Kerry has been speaking before Senate and House committees on the deal, usually with Secretary Moniz by his side, and has made bold statements about the deal, stating there is no other option and just this week announcing that, "If we turn around and nix the deal and then tell them, 'You're going to have to obey our rules and sanctions anyway,' that is a recipe, very quickly … for the American dollar to cease to be the reserve currency of the world."
As the month of September creeps ever closer and a vote on the deal approaches fast, Obama and Kerry appear set to continue to fight for the deal's approval, with or without the support of key Senate Democrats such as Schumer.