By: Timothy Aderman
Over the weekend, a video of a police officer, Sgt. Eric Casebolt, swinging an African-American teenager named Dajerria to the ground in McKinney, Texas has gone viral. Many consider his actions racially motivated and calls for his removal have flooded social media. In opposition to these voices, many who witnessed the event tried to contextualize the incident by saying that, while Sgt. Casebolt's actions were markedly aggressive, the mass of teenagers were unruly and had trespassed.
The incident comes on the heels of numerous incidents between African-Americans and police officers. The deaths of African-Americans' Eric Garner in Ferguson, Tamir Rice in Cleveland, Freddie Gray in Baltimore, Walter Scott in North Charleston, and Eric Garner in New York City at the hands of police have been perceived by many to be the effect of racist policing. Protests and riots have drawn national and international attention. A May, 2015 United Nations report cited comments from both Pakistan and Russia expressing concern over policing in the U.S. The former stated as having "serious concerns about the human rights situation in the U.S." regarding recent incidents between African-American citizens and police officers who have, for the most part, been white.
Within the past five years, the Department of Justice has opened at least twenty investigations to determine whether police departments including most recently, Baltimore and Cleveland, violated civil rights through racist policing. Both of these cities entered into a Consent Decree Agreement with DOJ. This agreement provides for federal oversight and accountability in meeting DOJ post-investigation recommendations.
Each investigation must consider myriad factors including whether or not the racial composition of the police force mirrors the constituencies demographic. Primarily, DOJ investigations must consider whether racism has seeped into discretionary phases of the justice system. These phases include whether or not an officer decides to arrest, whether a state's attorney will press charges and if so, what the severity of the charge will be, judges who set bond, and the level of leniency of probation and parole officers in whether or not to violate.
Indictments are one phase where racial bias may intrude upon an otherwise objective justice system. Indictments provide an opportunity for the prosecution to state a case for charges to be pressed. Defense is not afforded an opportunity to present or rebuttal the prosecution's argument. Amongst criminal law attorneys, it is commonly noted that one can "indict a ham sandwich" due to the ease of obtaining an indictment. Many in the public have been particularly disillusioned at the many non-indictments that police have been given.
Two notable indictments have occurred recently to the applause of anti-police brutality protesters. Recently, a Chinese-American police officer named Peter Liang was indicted for the death of an African-American man. Only Officer Peter Liang's partner directly witnessed the shooting. Many within the Asian community expressed concern that this indictment only occurred because Peter Liang was not white. They cited the non-indictment of Officer Darren Wilson, a white police officer in Ferguson, who was not charged with the shooting death of teenager Michael Brown.
However, this week, Officer Michael Slager, a white officer from North Charleston, was indicted in the shooting death of Walter Scott, an African-American whose shooting death was captured by a bystander's camera. The video alleges that Walter Scott was shot in the back while running away from Officer Slager, after which Officer Slager retrieved a weapon and dropped it by Walter Scott's lifeless body.
As DOJ continues its nationwide investigations of policing, police report being uneasy or unwilling to take the initiative in protecting citizens and upholding laws. A recent report is cited  that states violent crimes have grossly spiked this year. In New York City, murders have gone up 20%. In Houston, the rate has gone up a staggering 50%. Many attribute this rise to the protesters inhibiting the lawful work of police officers. In an interview with BBC, one Baltimore police officer stated that since the investigation into the Baltimore Police Department opened, gangs have expanded their narcotics trafficking activities while simultaneously, the murder rate has spiked. Many police are unwilling to conduct their responsibilities for fear of being indicted or for being the catalyst for more urban riots.
Both sides of the argument will continue to debate on how to improve community relations. The answer lies in the beginning of the now-infamous McKinney video. 32 seconds into the video, a police officer is seen speaking to a group of teenagers. The police officer can clearly be heard saying "Okay, guys. I appreciate that." Right after, Sgt. Casebolt runs through yelling "Get your asses down on the ground." For the sake of both the community and for officers, it is hoped that lessons will be learned from both officers.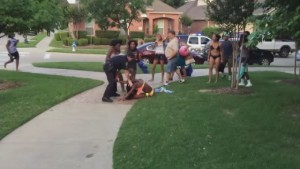 Photo: Fox 4 News Dallas-Fort Worth