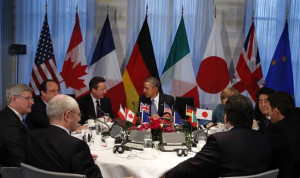 By: Hanna Humphreys
This year's G-7 summit is coming up, and President Obama will be traveling to Krun, Germany on Sunday to make his appearance.
Formerly the G-8, a coalition of the world's major economies, the US, Canada, UK, France, Italy, Japan, and Germany decided last year to leave Vladimir Putin out beginning last year, after increased Russian violence in Ukraine. The G-7 nations represent over 64% of the net global wealth, adding up to about $263 trillion. It influences the International Monetary Fund as well as the World Bank regarding crisis resolution, and it has had significant impact on global trade rules.
So what's on the agenda for this year's summit? Combating ISIS is naturally at the top of the list, along with handling Ukraine, Russia, and Iran.
Although it is not a member of the G-7, Iraq is sending its prime minister, along with the leaders of Nigeria and Tunisia, to some of the meetings at the summit directed at terrorism. President Obama will meet with Iraqi Prime Minister Haider al-Abadi on Monday to discuss Iraqi security and the next steps against ISIS; this meeting is coming shortly after ISIS captured the city of Ramadi.
Obama also plans to encourage members of the EU to enforce sanctions upon Russia until aggression declines. Perhaps most concerning is the recent violence in Ukraine, an issue which leaders will almost certainly discuss.
Handling the nuclear deal with Iran is another key issue to be addressed. President Obama is meeting with the heads of state collectively, as well as privately with U.K. Prime Minister David Cameron and German Chancellor Angela Merkel to discuss any provisions before the P5+1 coalition makes an official deal with Iran.
The summit is taking place at Schloss Elmau, a former castle in the Bavarian Alps. Though the president will only be visiting for a couple of days, he is taking a Sunday morning tour of the city with Angela Merkel. Later that night the group of leaders will enjoy a menu of fresh local foods to be kept a secret until served, followed by a concert.