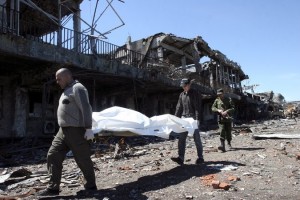 By: Charles Ayers
As the Ukrainian conflict continues into its second year, the two opposing sides appear to be increasingly entrenched in their positions, both ideologically and literally. The eastern breakaway regions have become separated from the rest of Ukraine by a long line of trenches, patrolled by increasingly belligerent Ukrainian army units and pro-Russian separatists. While the Minsk peace accord supposedly remains in effect, facts on the ground and the rhetoric of opposing leaders suggest that there is little hope for a comprehensive diplomatic solution to the conflict.
While there has not been any major movement by either side for several months, fighting has continued as signs of a major offensive become increasingly evident. Last Wednesday at least 19 were killed in fighting around Donetsk, in a fierce firefight involving tanks and other heavy weapons supposedly banned from the frontlines under the Minsk agreement. Both sides blame each other for the most recent outburst of violence, even as the UN accuses both groups of needless endangerment of civilians. Ukrainian officials have been warning that a resumption of hostilities is likely, as Russian troops and weapons continue to enter the separatist regions.
Most political actors involved in the dispute continue to denounce one another. Ukrainian President Petro O. Poroshenko demanded the complete withdraw of Russian troops and weapons from Ukrainian territory while warning of a "full scale invasion"; the Kiev regime has established a de facto embargo of the separatist regions with fortifications along the front. Meanwhile, European leaders seem ready to extend sanctions on key sectors of the Russian through the end of the year or until Russian abides by the Minsk protocol, as calls to relax the EU measures lessen with resumed fighting. Meanwhile, Russia's economic growth prospects appear less grim, as oil prices and the ruble rise and inflation slows. Russian President Vladimir Putin might use this breathing room to extract more concessions from Ukraine and Western leaders with a renewed separatist offensive. His recent decision to classify Russian military deaths as a state secret suggests that he is determined to continue his foreign intrigues without the full awareness of his own people. As Russian and American diplomats exchanged accusations in the UN over the recent outburst in fighting, chances of resolving the conflict peacefully seem slim.
Photo Credit:Igor Tkachenko/Reuters