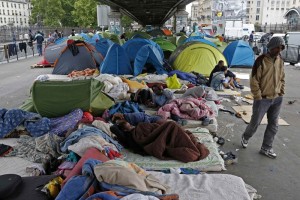 By: Jason Tran
The number of people migrating across the Mediterranean Sea has sharply increased in recent months as many seek safety, away from their oppressive, poverty-stricken homelands. The majority of such migration funnels from Libya to Italy, but other routes to various cities in Europe do exist.
Traveling across the Mediterranean Sea is a dangerous risk for migrants seeking better living qualities due largely to the fact that the boats used are often old and unsustainable. The overwhelming density of people on one boat and rugged currents add to the reasons for a potential wreck. One boat traveling from Libya to Italy on April 19, collapsed, killing over 600 people, showing once again that migrants attempting to escape their past environment go through deadly obstacles just to reach coastal Europe.
With more migrants situating in European cities, the lack of income forces them to live in harsh settings. In Paris, the city looks to control the growing populations of migrants. On Tuesday, June 2nd, French police expelled approximately 400 migrants who camped underneath a Metro line surrounded by gusts of cold air. A handful of the migrants—some of them women and children—had situated themselves there for more than a month without water or electricity.
Migrants were guided to a bus that relocated them elsewhere—depending on whether migrants wanted asylum or to continue traveling. France provided housing for those who were applying for asylum whereas the continuing travelers were taken to close shelters. Tents were immediately cleared afterwards.
France is not alone in their efforts to manage the incoming migrants. Recently, the European Union proposed for other nation-state members to accept a set amount of migrants. The popularity of Italy and Greece—the closest states to the most popular Mediterranean migrant routes—creates trouble in accommodating a large influx. With a distribution system based on a country's capacity, migrants will be displaced where there is room, ensuring a place to stay.
The European Union is successfully sorting through various ways to situate incoming migrants, but there are other factors that need to be addressed—including the initial environment from which the migrants are escaping.