By Timothy Aderman
New Jersey Governor Chris Christie (R) announced his bid for election to the President of the United States. He joins an overly crowded Republican field that some have compared to an over-stuffed clown car. Christie joins 13 other Republican candidates. This does not include Democrat's Clinton, Chafee, O'Malley, and Sanders or third party candidates including Libertarian Gary Johnson.
The blunt, sometimes tactless Governor stated "I mean what I say and I say what I mean, and that's what America needs right now." This simplistic overture may catch the attention of many Republican voters in its plain use of language. However, it may be found to be abrasive to those voters who are more attuned to the complexities of political maneuvering, particularly on Capitol Hill.
Christie attended Seton Hall University School of Law, currently ranked by U.S. News & World Report as a second-tier law school tying the University of Connecticut, University of Kentucky, and the University of Miami for #63. Christie worked extensively on both President H.W. Bush's 1992 campaign and later President George W. Bush's 2000 campaign. Christie was later appointed to the U.S. Attorney for New Jersey position by President George W. Bush where Christie sat for 6 years.
Christie has been Governor of New Jersey since running in 2009. His time as governor has been marked by both high and low points. Perhaps the most well-known incident was "Bridgegate." Lanes on the George Washington Bridge were intentionally closed to create massive traffic jams in retaliation against Mark Sokolich, the mayor of Fort Lee who is a democrat. Allegedly, Sokolich failed to endorse Christie's re-election bid to New Jersey state governor. Although Christie was not prosecuted, some of those under his leadership were found guilty. An email from Christie's own deputy chief of staff, Bridget Anne Kelly reportedly commanded the traffic jam to occur. She later resigned.
Any noun followed by "gate" imprints itself into the U.S. voter's psyche as a pejorative label. While Bridgegate was a resounding black eye for the Christie administration that may haunt him in his bid for POTUS, Christie was lauded for his leadership in the wake of the devastating Hurricane Sandy. Christie was noted for reaching across the aisle, a far reach to say the least, to praise President Obama for expediting federal aid to New Jersey after the hurricane. Unfortunately for Christie, soon after, reports and a subsequent investigation alleged he diverted some federal relief funds to produce commercials starring himself.
Under Christie's leadership, New Jersey has also suffered economically. NJ.com reported in April of this year that "Moody's Investors Service has downgraded New Jersey's debt rating, dealing the Garden State its record ninth ratings cut since Gov. Chris Christie took office." Austerity measures effecting Planned Parenthood may have been a nod to the radical Christian Conservative base but have angered many others. Public sector unions have also neared imminent collapse under austerity measures.
During Christie's time at New Jersey's helm, unemployment and private sector job creation have also struggled mightily. New Jersey's ranking in each category fail to match up to their neighboring states.
The Republican Party is often charged with being an intellectual desert. While conservative fiscal policy remains a touchy issue, both sides of the aisle should be able to, in theory, agree that corruption is detrimental to the democratic process and intellectually belittling to all parties involved. While Christie has wiggled his way out of numerous allegations of corruption, the stains of each allegation and charge will leave him near the bottom of the Republican primary polls.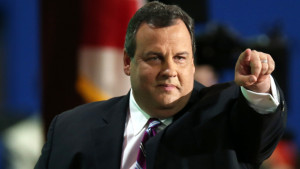 Photo: www.theyeshivaworld.com