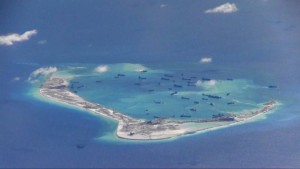 By: Charles Ayers
Tensions between China and the United States over territorial disputes in the South China Sea seem to be rising, as evidenced by face-offs between the Chinese navy and US military surveillance planes flying over China's newly created artificial islands. Many analysts believe that these artificial islands, built on reefs by dredging up sand, are being built as part of a strategy to strengthen Chinese claims in the region.
A CNN news team was invited on a Navy flyover mission on May 20th as part of a deliberate attempt by the US military to raise awareness of China's island building operations, based largely around the Spratly island chain. The plane was challenged eight different times in English, with Chinese radio operators claiming that the navy plane was operating in China's "military alert zone" and that it needed to leave immediately. The US military maintains that the plane was operating in international airspace, and that frequent observation missions over the islands would continue.
The South China Sea has been a continual source of historical and contemporary diplomatic disputes involving numerous East Asian nations with conflicting territorial claims. The People's Republic of China maintains the most extensive set of claims, which cover most of the Sea and its major reef and island chains, putting it in conflict with countries like Vietnam or the Philippines. Oil has been a frequent aspect of the disputes, as the South China Sea is considered a highly promising region for future development. Violent riots set off in Vietnam following the building of a Chinese oil rig in disputed waters also demonstrates the degree of national pride involved in these disagreements.
The United States has no territorial claim to the South China Sea, but is a close ally with the Philippines and has historically sought to prevent conflict in one of the world's most important trade and energy routes. As such, US policymakers maintain that China's island building constitutes a serious threat to regional stability. American political and military leaders have also insisted on the right to conduct military operations in international waters and airspaces. In opposition to China's claims to a special zone of control closed to foreign militaries, Defense Department official have raised the possibility of sending navy ships into international waters in the South China Sea.
Chinese leaders have already admitted that the land reclamation effort is at least partially for "necessary military defense". Military bases and installations on new artificial islands could be used to both establish de facto Chinese control over disputed territory and raise the potential cost of aggressive US military operations in the region. Other recent Chinese actions, such as refitting the country's ballistic missiles to deliver multiple warheads, also suggest a more confrontational atmosphere in East Asia. With American leaders determined to maintain a strong presence in the region, a violent clash between these two powers appears to be increasingly likely.
Photo Credit: United States Navy