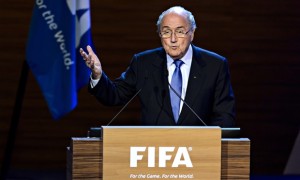 By: Charles Ayers
Soccer fans around the world were stunned by the broad criminal charges brought against FIFA officials this week. Swiss authorities arrested 7 high-ranking soccer officials after a US investigation formally accused 14 different individuals of corruption. These arrests have heightened scrutiny over the host countries selected for the 2018 and 2022 World Cups: Russia and Qatar, respectively.
Even before the current corruption scandal came to light, the selection of these two nations has been a controversial issue. Both have been criticized for human rights abuses. In Qatar, summer temperatures reach unsafe, scorching levels described as a potential risk to "players, officials, and spectators" in an internal FIFA report. In addition, the country does not even have a large soccer fan base. Qatar's use of migrant workers to construct the infrastructure needed for the 2022 World Cup has raised the ire of multiple labor and human rights organizations, which claim that these laborers are forced to work in oppressive, unsafe conditions. Allegations of a rising migrant worker death toll have led to calls for FIFA sponsors to withdraw support for the 2022 event.
Russia's annexation of Crimea and continued support for Ukrainian separatists has led many to question the appropriateness of Russia acting as a host country. In fact, Ukrainian president Petro O. Poroshenko had proposed that teams boycott the 2018 World Cup over Russia's actions. Russian President Vladimir Putin spoke out forcibly in opposition to the arrest of FIFA officials, describing it as an attempt by the United States to gain power and violate the sovereignty of other states. Analysts believe Putin aims to preclude any attempts to relocate the 2018 World Cup by portraying the corruption investigation as an anti-Russian Western plot.
FIFA officials have stated that there will be no repeat of the 2018 or 2022 selection process, despite the exposed evidence of corruption playing a significant part in prior World Cup choices. However, Swiss authorities have announced that they are opening an investigation into "criminal mismanagement and…money laundering in connection with the allocation of the 2018 and 2022 Football World Cups", suggesting that Russia and Qatar's status as host countries might be in jeopardy.
Photo Credit: Fabrice Coffrini/AFP/Getty Images