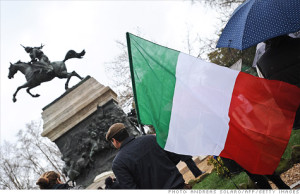 By: Ivan Baric
On Friday, the Bank of Italy announced that the country's debt is now €2.1659 trillion, which is an increase of €31 billion only in January. This means that the Italy's public debt is now second in the eurozone, right behind Greece's.
As Italy's ANSA news agency reported, the main reason debt spiked in January is because the Treasury increased its available liquidity, or money supply, by €36.3 billion euro, bringing the total to €82.6 billions.
Only two years ago, Italy's debt was barely over one hundred percent, stopping at 102 percent. However, last year it reached 127.9 percent, and this growth continues today. Moreover, Italy's economic failures were not taken seriously because of the focus on Greece, although Italy is the third largest economy in Europe, which makes it too big to fail.
Italy hasn't recorded quarterly growth since mid-2011, and the economy is desperate for economic resuscitation. The European Commission isn't monitoring Italy as strictly as Greece, however, Italy's budget is under "special surveillance."The European Commission mandated debt-to-GDP target is 60 percent.