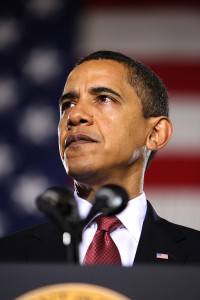 By: Novpreet Bajwa
With the Republicans now controlling Congress since 2007, President Obama's latest executive order regarding immigration is in jeopardy.
On November 20, 2014, President Obama took it upon himself to solve the immigration problems (at least temporarily) by granting temporary legal status to illegal immigrants who have been in America for 5 years or have children who are citizens and permanent residents. These immigrants will go through background checks and would have to pay taxes like all legal residents. Obama's action is predicted to affect up to 5 million immigrants, almost a third of undocumented immigrants. Obama believes that since Congress has failed to appropriately deal with the immigration problems, he had to take action.
Most Republicans, as expected, are not happy with Obama's order, citing it as unconstitutional and unlawful. And since Congress is led by Republicans now, many of them vow to reverse this order or at least hinder it through legal measures.
One measure that most Republicans agree on is to defund the Department of Homeland Security, the agency that is tasked with carrying this order out. The agency's funds run out in February and the Congress has still yet to provide funding for it. The Republicans in House of Representatives have formed a bill that carefully limits DHS funding for executing the immigration order while it includes certain language that will provide more funding for multiplying security at the borders.
Part of the reason for DHS not being provided with funding in December like the rest of agencies had been stems from Republicans holding it for leverage against the executive order. This holding gave the Republicans time to come up with a strategy that will effectively block the order.
In addition to the strategy mentioned above, Republicans are also considering Rep. Robert Aderholt's proposal which expands further than defunding DHS. His bill mandates the state and local government agencies to comply with ICE detainers who are allowed to hold immigrants in custody even if they are allowed to leave. The agencies that do not comply with this decree will not be granted more funding.
Republicans also aim to invalidate the Deferred Action for Childhood Arrivals (DACA) Program with an amendment that will be part of the defunding DHS bill. This program which was initiated by Obama in 2012 allowed illegal immigrants who are children to apply for work permits and stay in United States without fear of deportation.
With all of these bills going around Congress, one has to wonder, will they effectively stop the order? Even if one of the bills passes in the House and Senate, Obama is most likely to veto it.