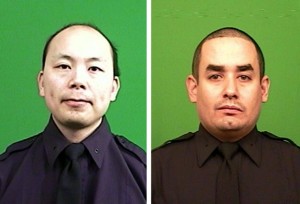 by: Liana DeMasi
Ismaaiyl Brinsley, 28, shot two uniformed NYPD officers this past Saturday in Brooklyn, NY. The officers, Wenjian Liu and Rafael Ramos were working overtime on an anti-terrorist project in Bedford-Stuyvesant when Brinsley approached them in their marked police vehicle and shot them point-blank in the head. Following the shooting, Brinsley took his own life with the same gun in a nearby subway station.
Investigators believe to have found his social media accounts where he posted pictures of the gun he used, that matched the one found on his person, and his outfit that he was found in. The captions and some of the posts read, "I'm putting wings on pigs today" and "they take 1 of ours…let's take 2 of theirs." The posts were accompanied by #ShootThePolice and hashtags about both Michael Brown and Eric Garner.
Although this has been one of the most severe act of citizen-on-police brutality in the wake of the Brown and Garner cases, it is not the first. At least four other NYPD officers were injured during protests and there has been support for the killings of Liu and Ramos, a concern for fellow NYPD officers and citizens alike. It appears this conflict is not going to cool down anytime soon, but for the sake of the law enforcement and citizens, we hope it does.