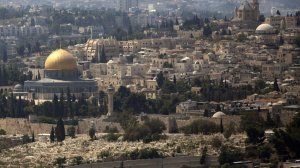 By: Luke Gould
Clashes intensified on Thursday in occupied East Jerusalem after Israeli police killed a Palestinian man accused of shooting and seriously wounding a far-right activist rabbi. The day before, Rabbi Yehuda Glick, 48, was shot and seriously injured, igniting initial tensions.
The Israeli government closed the Al-Aqsa mosque to the public in response to these increasingly violent episodes. The mosque is a sacred site for all three monotheistic religions and at the center of recent outbreaks of violence. It has not been shut down in 14 years. The site reopened Friday.
Rabbi Glick survived the attack on his life. Glick is a member of a religious group calling for the Jewish Temple to be rebuilt at the Al Aqsa site. This would involve building on the Mosque's current location. Glick, an American born settler, is also an advocator for the right of Jews to pray at the site, which is currently not allowed.
Israel's action has been denounced by Palestinian President Mahmoud Abbas as "tantamount to a declaration of war." Additionally, a "day of rage" has been called for by his Fatah party.
Israeli President, Benjamin Netanyaho has pressed for calm in response.
Mutaz Hijazi, 32, was shot to death by police several hours after his attempt on Glick's life. He was killed in his family home in the Abu Tor neighborhood of East Jerusalem. According to Israeli police spokesman, Micky Rosenfeld, Hijazi had been armed and fired on police forces.
Many nearby residents say that Hijazi was, in fact, unarmed during the altercation, which happened in the earlier hours of the morning. Some residents said police upon fired on them when they went outside to investigate the gunshots.
"The police came into the neighborhood, dozens of them, and he ran to the roof of the building," Mohammed Shwayt, a local resident told Al-Jazeera News. "They started shooting almost immediately."
The Abu Tor district of the city was plagued by clashes most of the day following these incidents. Dozens of locals, mostly young men, engaged the police with stones. The police responded with heavy tear gas. Tensions have relaxed since, but there is an omnipresent fear that the situation could rapidly deteriorate.
Photo – Sebastian Scheiner/AP