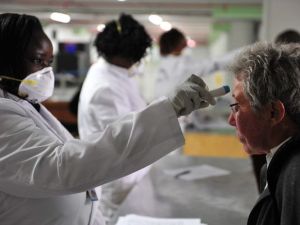 by: Liana DeMasi
Since the first case of Ebola hit the United States a few weeks ago in Dallas, Americans have been concerned with it spreading throughout the country. People began to panic and many wondered what Obama planned to do to prevent the disease from going nationwide. In response to this concern, the United States Government has implemented a screening protocol in several airports in the United States two of which are JFK in New York and Newark in New Jersey. Once a traveler enters from another country they will be asked where they are traveling from and if their response is a high-risk country, their temperature will be taken. A fever is the first among many symptoms of Ebola and numerous other viruses. If they have a fever they will be sent to medical care.
People have also inquired as to why flights from Western Africa were not being blocked. The reasoning behind this is that airports in high-risk countries are also implementing screenings on passengers before any that risk being infected travel elsewhere. Such screenings have been responsible for 77 people being removed from flights.
It is important that these screenings continue to be enforced because travel is one of the most common ways diseases spread. This is now evident in Spain where a nurse was infected with the virus by a missionary who was infected in Sierra Leone. The missionary was flown to Madrid for treatment and died 3 days later on September 25th. Shortly after, the nurse began experiencing symptoms and tests were ran that concluded she had contracted the virus. Records show that she was only in contact with the missionary twice, once while he was alive and once after death. The hospital released a statement saying that they are unsure of the exact contact that the nurse had with the patient that caused her infection. 30 other medical professionals were also in the patients presence and are currently being tested but no results have come up positive. The infection of a nurse is concerning for numerous reasons but now it is apparent that even medical personnel in developed countries such as Spain are at risk of being infected. Unfortunately, until a cure is found, our citizens, amongst others, will continue to be fearful and cautious.