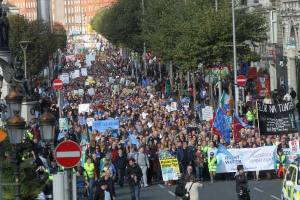 By: Luke Gould
On Saturday, tens of thousands of protestors filled the streets of Dublin to protest the Irish government's plans to start charging for water services next year.
Police initially announced that roughly 30,000 were in attendance, but never released an official estimate. Organizers contend the number was much higher; close to 100,000. Even if the lower number is more accurate this is still an astonishing feat given that Ireland's population is only about 4.5 million. By sheer numbers this is easily one of the largest anti-austerity marches in Ireland's history. By percentage of population this march could easily be dubbed the largest anti-austerity rally in history.
Water service has been free in the Irish Republic for several years. A new center-right coalition in government, however, has been the driving force in seeking to charge for the service. The government believes this will bring in needed additional revenue and grow the Irish economy. That being said, Ireland's economy has witnessed a stronger economic recovery, since the 2008 crisis, than many of its neighbors.
This move will charge people hundreds of euros for water. It is a very unpopular action by a government that is facing reelection in just 18 months. The government hopes to regain support by the economic upturn to that is supposedly coming with this new austerity measure.
Critics of center right coalition say that economic upturn in recent years has only been for the wealthy. They further contend that new austerity measures will continue to grow the economy, but not for working class people.
Paul Murphy from the Anti-Austerity Alliance, recently won the parliamentary seat in Dublin South West. His campaign was marked by a call to boycott new water charges.
"Recovery is for the rich, it's for the 1 percent … it's not for the working class people." Murphy told his supporters at the protest in Dublin.
His supporters replied: "No way, we won't pay."
The protest attracted participants from across the country. In attendance were also most major Irish trade unions. In attendance were people from varying backgrounds and standings, all united in a singular struggle against more austerity.
"Enough is enough," Kathleen McWilliams, a middle-age woman from Artane told the Irish Times. "The property tax was bad enough but I have nothing left to give."
Many organizers in attendance addressed the crowd. Among the speakers was Audery Clancy, of the Edenmore Says No campaign.
"We have to have mass non-compliance when these bills start coming in January. No contract, no consent. We can beat this. We have to stick together. The power of the people is greater than the people in power. Stand up to them," she said to a thundering crowd.
The protest demonstrated powerful tensions coming to surface in Ireland. With more demonstrations planned for the future and organizers actively promoting civil disobedience it appears that the Irish people may be able to win a victory over austerity.
Photo Credit of indymedia.ie
.