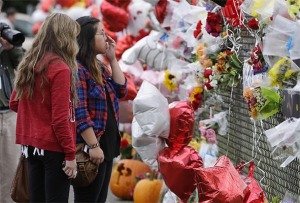 By: Liana DeMasi
On Friday, October 24th, Jaylen Fryberg, 14, opened fire on his classmates at Marysville-Pilchuck High School in Washington. Following the shooting of his classmates, he ended his own life. The gunman's motive remains unknown but it is rumored that a romantic relationship sparked the shooting. A week prior to the shooting he was in a fight with a fellow classmate, the motive for which is also assumed to be about the romantic relationship. Weeks and days before the shooting Fryberg tweeted, "I hate that I can't live without you" and "it breaks me…it actually does…I know it seems like I'm sweating it off…but I'm not". His final tweet read, "It won't last…it'll never last…" The motive for the tweets are unclear but they are believed to be related to Friday's shooting.
​Five people were shot during Fryberg's rampage; one was killed and four were injured and remain in critical condition at local hospitals. The deceased, whose identity remains withheld, was a female classmate of Fryberg's. Two other victims were cousins of Fryberg's, Nate Hatch, 14, and Andrew Fryberg, 15. According to Nate Hatch's grandfather, "they [were] just three complete buddies, and they couldn't be closer than three brothers". Both Nate and Andrew remain in critical condition; Nate's condition is said to be improving and Andrew has undergone extensive surgery.
​The other two victims, Shaylee Chuckulnaskit and Gia Soriano, 14, were both shot in the head and remain in critical condition. They are being closely monitored at Providence Regional Medical Center. Sources say the relationship between the girls and the gunman is unclear, if existent.
​Fellow students and family members of Fryberg are shocked by his violent behavior. He was popular, an athlete and was recently named homecoming prince. He was very proud to be a member of the Tulalip Tribes, a Native American tribe with 22,000 acres of reservation close to the school. So why did someone who seemed to have it all together, do something so wrong? That is what the Marysville-Pilchuck High School community is still trying to figure out. ​