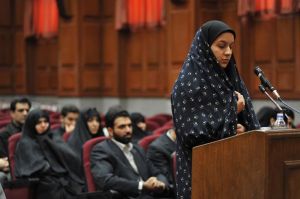 by: Liana DeMasi 
In 2007, Rayhaneh Jabbari, at the time 19 years old, was convicted for the murder of physician and her alleged-attempted rapist, Morteza Abdolali Sarbandi. Jabbari was an interior designer and Sarbandi approached her with a business proposition for a renovation he wanted to have done. Sarbandi picked her up on the day of the meeting and then proceeded to drive to a pharmacy and purchase a drug which was later identified as the date-rape drug. He then drove her to a house, not the office that the meeting was supposed to be held at, and offered her a drink that contained the drug. Shortly after, an altercation ensued and Jabbari stabbed Sarbandi with a pocketknife twice in the shoulder, which, supposedly, caused his death.
The court had scheduled Jabbari's execution for the week of April 14th, 2014 but her mother, Pakravan, and human rights activists made noise about the execution, causing the UN to advise Iran to put the execution on hold. Jabbari's lawyer stated that the police investigated many different leads and then placed all of their evidence on a CD, which was then placed in an evidence box. That CD went "missing" while in the hands of the lead prosecutor. This led Jabbari's lawyer and her mother to believe that there was a cover-up involved and that Jabbari was framed. According to Jabbari's lawyer, there was evidence on that CD that stated there was a third party on the scene seconds after Jabbari stabbed Sarbandi. There is reason to believe that the third party could have actually been the one to execute the killing of Sarbandi because, due to his body-size, it is unlikely he would die from the wounds inflicted by Jabbari. Yet, with this evidence lost and the third party mentioned, the court has made no effort to question him or figure out his role in the crime.
Due to this incriminating evidence to the third party and the human rights violation of Jabbari being executed due to an act of self-defense, human rights activists around the world sent out a petition to hold her execution. That petition received close to 200,000 signatures and caused the UN to advise the Iranian government to put a hold on Jabbari's execution. They were successful in April but the courts gave her a new date for September 30th, 2014. Yet, on the scheduled date, after Jabbari had given her mother a tearful goodbye, the execution was postponed for another 10 days.
Human rights activists have been trying to obtain fair treatment of women in the court systems for decades in Iran, and other female-suppressive countries. In fact, last year, many people supported the election of Iranian President Hassan Rouhani because they believed he would help human rights and bring fairness into the court systems. But, many say that things have gotten worse since his election. In fact, Iran has executed 170 people in 2014 alone compared to the United States' 30. Women are frequently executed after they are raped because they are seen as impure and sinful and many times, regardless of evidence , the rape is blamed on them. In fact, political prisoners in Iran have said, "a woman's rape is frequently the last act that precedes her execution. This is explained by the rule…that the sentence of execution cannot be carried out if the woman is a virgin." So, the question remains, will human rights activists save Jabbari? Or will she fall victim to the Iranian judicial system?