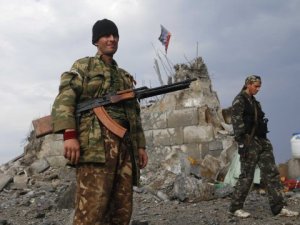 By: Luke Gould

Despite several incidents of shelling and fighting over the weekend, a delicate ceasefire, signed Friday Sep. 5, is holding in Eastern Ukraine. Tensions, however, both within Ukraine and between the West and the Russia, remain high.
"The entire world longs for peace, the whole of Ukraine longs for peace, including millions of residents of [rebel-held] Donbass," Ukrainian President Petro Poroshenko said in a written statement. "Human life is the highest value. We must do everything possible and impossible to end the bloodshed and put an end to people's suffering."
Ukrainian, Russian, Separatist, and Organization for Security and Cooperation in Europe (OSCE) representatives agreed upon the ceasefire during peace talks in the Belarusian capital Minsk on Sep 5. The truce took affect 1500 GMT, the same day as it was announced.
The ceasefire implements many measures purposed by Russian head of state, Vladimir Putin. These measures include freezing forces in their positions, international monitoring, prisoner exchange and a humanitarian corridor to provide civilians with aid.
A detailed 12 point plan has been released, which is designed to make the ceasefire effective long-term. The plan calls for a decentralization of power away from Kiev and the implementation of "special status" for the rebel regions of Luhansk and Donetsk. This should guarantee a level of autonomy for the two regions. The plan also calls for the release of prisoners and international monitoring. The plan goes on to stress the importance of providing legal amnesty for those involved with fighting and maintaining an "inclusive national dialogue."
The truce mostly held throughout the weekend but rests on very uneasy ground. Only hours before the ceasefire was signed, fierce fighting brought shelling near the strategically vital port city of Mariupol. Various reports have come in from around Donetsk and Mariupol of scattered fire fights and bombardments in violation of the truce from both sides.
The ceasefire comes the same day as NATO's announcement on the creation of a new rapid response "spearhead" force to be headquartered in Eastern Europe. NATO announced its new fighting force during a summit in Wales on Sep. 5. The force will consists of several thousand land troops supported by air, sea and special forces capable of mobilizing and deploying within a few days. NATO Chief, Anders Fogh Rasmussen, said during the summit "This decision sends a clear message: NATO protects all allies at all times."
UK Prime Minister, David Cameron said during the conference that the UK would commit 3500 troops to the force. American President, Barack Obama has promised only financial support thus far.
Moreover, NATO is planning military exercises in Ukraine later this year and on holding its 2016 summit in Warsaw, Poland.
In addition to these recent NATO actions, the European Union announced further sanctions against Russia on Monday. The US is also coordinating its own supplemental economic sanctions against Russia.
The creation this battle group, coupled with other actions by NATO and the West, are designed to deter Russia from expanding its sphere of influence. These military actions will greatly expand NATO's military presence and capacity in Eastern Europe. Sanctions will work to undermine and destabilize the Russian economy. These are clearly calculated moves against Moscow.
The Kremlin responded by accusing NATO of using the turmoil in Ukraine as an excuse for fulfilling it long time objective of building military strength nearer to Russia. The Russian foreign ministry went on to stress the dangers of reigniting internal tensions if NATO is to continue its military exercises in Ukraine later this year.
Russia responded to threat of new sanctions by threatening to shut down its airspace to western airlines.
It would appear that the West and its military arm, NATO are more preoccupied with confronting and antagonizing Russia, than with ending violence and suffering in Ukraine.
Russia perhaps deserves some small modicum of recognition for its role in the ceasefire. This role however does not absolve Russia's past record of interventionism in the Ukraine nor does it mean that Russia is no longer a self-interested state, like all others, with its own political and economic motivations.
Ultimately, the situation in Ukraine is an unjust proxy war, in which super powers move and locals suffer. Neither the West nor Russia is without ulterior motives when it comes to the Ukraine. Both sides have engaged in questionable activity and appear willing to escalate the situation further if necessary to fulfill their own gains.
In the end one can only hope that the ceasefire will hold. If this ceasefire is made to last the greater conflict between the West and Russia can be taken out of the destructive arena of proxy war. Both sides in this larger global confrontation have it completely within their power to shift their battle out of Ukraine and into the realm of diplomacy, international relations and global economics.
Photo Credit Maxim Shemetov/Reuters