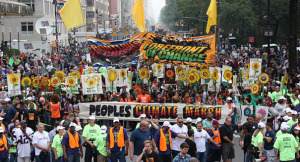 By: Luke Gould
An estimated 400,000 people rallied in New York City on Sunday as part of the People's Climate March, just days ahead of a United Nations summit on climate change. Participants hope to pressure world leaders into action on environmental issues.
The rally is being dubbed as is the largest climate march in History, with the 400,000 figure greatly surpassing past numbers for similar events. Hundreds of buses brought citizens from across the nation to lower Manhattan, the financial center of the world, swelling the numbers of those in attendance well beyond initial expectations. Marchers were joined by many of the cities Labor unions and scores of prominent public figures.
Well known environmentalists marched alongside policy makers, all among the sea of typical, everyday Americans demanding more environmentally conscious global policy. In attendance were former Vice President Al Gore, environmentalist activist and author Bill McKibben, Senators Bernie Sanders (I-VT) and Charles Schumer (D-NY), as well UN Secretary-General Ban Ki-moon, among others. The march was coordinated by a variety of climate action organizations including, Bill McKibben's own group, 350.org.
The march was a coordinated international effort. It occurred simultaneously with over 2500 other such events, involving hundreds of thousands more individuals across the globe in 150 countries.
"Today, civil society acted at a scale that outdid even our own wildest expectations," said May Boeve, executive director of 350.org, in a statement. "Tomorrow, we expect our political leaders to do the same."
The global effort comes only two days before the UN's summit on climate change. President Barack Obama is among the 120 world leaders expected to convene this Tuesday at the UN. The summit will set the stage for discourse on an agreement to limit carbon emissions.
John Podesta, a counselor to the president, told reporters on Thursday that the administration desires to "show the world that the U.S. is leading on climate change, and to call on other leaders to step up to the plate." Given the US' position as one of the top carbon emitting nations in the world this statement still leaves many cautiously skeptical.
The march began at 11:30 am local time and stretched for over 4 miles. In attendance were individuals from all ranges of life – doctors, students, teachers, vagabonds, outdoor enthusiasts, scientists and onward. The spectacle brought together both young and old, blue and white collar all united in the singular struggle against climate change and for a brighter future.
Photo Credit of Politico/Andrew Restuccia