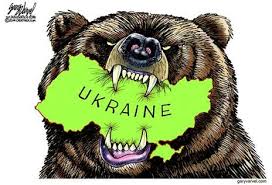 By: Sean Curry
Ukrainian officials reported on Thursday that Russian troops, paired with military vehicles and equipment, opened fire on a Ukrainian outpost and then proceeded to cross the border into Ukraine; opening a third front in this months-long-conflict that has claimed nearly 2600 people. "Russian forces have entered Ukraine," claimed Ukrainian president Petro Poroshenko after cancelling previous plans and scheduling emergency meeting of his security council. NATO officials publicly accused Russia of its "blatant violation" of Ukraine's sovereignty Friday morning, due to its recent acts of aggression. NATO's Secretary General Anders Fogh Rasmussen stated that "Despite Moscow's hollow denials, it is now clear that Russian troops and equipment have illegally crossed the border into eastern and south-eastern Ukraine." Multiple officials have estimated that at least 1,000 Russian troops have already marched into Ukraine, with as many as 20,000 troops in reserve across the border.  This move, many believe, comes as a strategic decoy, enacted by the Russian military in order to draw Ukrainian forces away from the remaining 2 separatist strongholds; the eastern cities of Donetsk and Luhansk.
While the Ukrainian military has been handily beating the rebel forces on a consistent basis throughout August, Vladimir Putin has been experiencing a massive boost in popularity among Russians and Ukrainians alike. This spike in popular support began with the overthrowing of the Russian-backed Ukrainian President Viktor Yanukovych by pro-European protesters during the Euromaidan Revolution. Some analysts and western military officials believe the aim of this move by Putin is to display Russia's might and geopolitical influence, while simultaneously attempting to prevent a catastrophic humiliation on the international stage. Lt. Col. Jay Janzen, a spokesman for NATO, stated "What we're seeing now is Russia trying to save face, trying to bail out those separatist fighters and trying to do so under the radar."
The third front was strategically created on the border town of Novoazovsk in order to carve a land route from Russia to its freshly acquired Crimea Peninsula. Many analysts have also concluded that the aim of this operation is to garner additional support for both the separatists and Putin himself, thus giving him more influence and justification. Putin seems to have rolled the dice in hopes of gaining additional short-term bargaining power before Russia initiates negotiations with Ukraine and other nations again. A former US ambassador to the Soviet Union, Jack Matlock, wrote an article pertaining to the Russian-Ukrainian crisis. He explains that Moscow is searching for various political and social reforms to be enacted in order to prevent the domination of the pro-Russian and Russian speaking people that still reside in the Ukraine by the pro-EU and Ukrainian speaking population. These demands include the recognition of Russian as an official language, constitutional amendments to protect those who are pro-Russian, and for Ukraine to promise not to "become a member of a military alliance hostile to Russia," or in other words, NATO.
Obama publicly condemned Russia's actions after convening a meeting with his security council. "Russia has deliberately and repeatedly violated the sovereignty and territorial integrity of Ukraine and the new images of Russian forces inside Ukraine make that plain for the world to see. This comes as Ukrainian forces are making progress against the separatists." He continued, stating that Russia was heavily aiding the separatist groups in various ways and promised to increase sanctions in order to isolate Russia into submission.
"As a result of the actions Russia has already taken, and the major sanctions we've imposed with our European and international partners, Russia is already more isolated that at any time since the end of the cold war," he said. "Capital is fleeing. Investors are increasingly staying out. Its economy is in decline." The great international financial markets across the globe reflected this shift as the Russian ruble dropped to a record breaking low against the dollar on Friday morning.