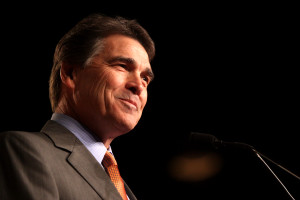 By: David P. Griscom
Rick Perry was indicted on Friday and there will be a mugshot. While the picture may spell doom for his presidential ambitions, at no great loss to anyone except Perry, the charges against him seem to be completely ridiculous. Rick Perry has been charged with "abuse of public power" and "coercion of a public servant". These are weighty accusations that if Perry is convicted would lead to an extended stay in prison. However, it does not appear that Gov. Perry has done anything illegal concerning his veto of $7.5 million of funding to the Public Integrity Unit. 
The fetishization of crime and punishment, good versus evil, is as much of a trope in Texas politics as the cowboy culture.  From protecting the sanctity of marriage, the purity of business, to protecting texans from the dangerous army of children on the border, Rick Perry has never struggled to create an epic narrative for himself. It seems on this one however, that it is the democrats who are creating imaginary struggles. The accusations that Perry's veto was an illegal misuse of power seems to be completely unfounded, as Governor he has the power to veto, and the fact that he wanted Rosemary Lehmberg to resign after her arrest does not change that.
The argument for Rick Perry's indictment is that through the use of his executive veto, he attempted to force the Texas District Attorney Rosemary Lehmberg to resign through coercion, by misusing his public power. But Rick Perry did not do anything illegal by exercising the rights awarded to him by the Texas Constitution. He has the right to veto and did not break any oaths taken by vetoing a budget, let alone anything that could merit the use of the legal definition of coercion, since he did not threaten to do anything illegal. If Perry made a threat of using force, or ordering the national guard to detain Lehmberg, he would be guilty and rightfully so. Using completely legal means to achieve his goals is not illegal, and it is not the duty of the court to determine if something was smart or delicately handled.  A coercion charge would have to include the use of an illegal method to control someone, the use of executive authority does not fit into this definition. If the courts find that the use of a veto in this instance is illegal it will set a precedent that will make the use of veto power in Texas illegal, or at least rather confusing legally. Obviously this would be ridiculous that is why this indictment is receiving condemnation even from Democratic rank and file members with David Axelrod stating on his twitter recently that the indictment "seems sketchy."  
If this story were not to have the political ramifications it does, that being allowing Rick Perry to select a replacement DA in liberal Travis County this indictment would not have any legs. The benefit to Rick Perry's party from Lehmberg's absence does not make him culpable of a crime. Equally important Lehmberg's actions proved her to be unfit for the job when she risked her life and more importantly the lives of others by driving drunk, as well as showing her complete contempt for the Texas legal system through her irate behavior when she was in detention. In most other circumstance Rick Perry would be regarded as a hero for taking on an obviously corrupt politician; who is also dealing with her own legal issues for not disclosing sources of campaign funds according to KVUE. 
The power to veto appropriation of state money going to the PIU was a completely legal path for Rick Perry to pursue and his reasoning for doing so is not something that the court should be investigating. Unless there is something that has not been released to the public about Rick Perry's actions in 2013 I do not feel that these charges will have enough weight to convict Perry of a crime. However, the proceedings may be enough to sink his presidential career.  
As the trial continues and the story unfolds it will show this, that while the Governor may be a hypocrite he did nothing illegal. The Texas Governor's hypocrisy can be seen in his statement in an interview on Fox News sunday, condemning the indictment, "You don't do it with indictments. We settle our political differences at the ballot box." Withholding funding may not be illegal, but it might not be the most democratic solution either. In addition to this his criticisms of President Obama's use of executive authority only prove that he is guilty of being a hypocrite.
This theater will most likely be the final act of Governor Rick Perry's political career especially when we see his soon to be infamous mugshot. Though this indictment may have given Rick Perry the unique opportunity, if he wins the case (which he most likely will), to present himself as leader who can withstand the kind of partisan drama that Americans have grown so tired of. If he is successful in this we may have more to see of Perry. Hopefully, this case will blow over quickly and we can wait for Perry's term to be over so he can finally fade into political obscurity.   
Rick Perry probably deserves jail time for his actions as the governor, while he may not be legally culpable he is morally culpable for the murder of countless people from his fervent pursuit of capital punishment in the Lone Star State. His religious policies probably cross the line of freedom of religion. His handling of the immigration crisis has been unfortunate to put it lightly. Rick Perry acting in the office of Governor of Texas may be found to have shown a lack of respect for basic human life and dignity, that he is homophobic, racist, and misogynistic. Governor Rick Perry is guilty of many things, but in regard to the charges levied against him on the 15th of August, Rick Perry is innocent.  
Image Courtesy of Wikimedia Commons Gage Skidmore