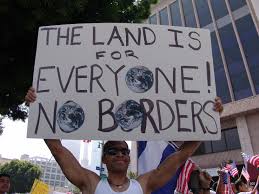 by Christina Cameron
Illegal immigration into the United States has changed drastically over the course of the last few months as surges of unaccompanied minors, primarily from Central American countries such as Honduras, Guatemala, and El Salvador, along with Mexico, continue to cross the United States' southern border.
Before this surge in 2012, according to the Migration Policy Institute, approximately 41 million immigrants were residing in the United States, of whom 18.7 million (46%) were naturalized citizens of the United States, while 54% (22.1 million) were not. Some were living here as illegal immigrants, while some were legal residents with temporary visas. The new immigration crisis however has changed all this, and in turn has produced a humanitarian disaster.
Due to high crime rates and low prosecution rates in their home countries, many of these unaccompanied minors find themselves fleeing to the US with help from "coyotes," or those responsible for smuggling them to the border.
Upon arriving at the border, many are sent to sites set up by the federal government, and detained at these sites by Customs and Border Protection. The tremendous numbers of children and families overwhelm the space available, making it evident that the United States has a human emergency on their hands. The urgency of this situation was heightened by disturbing photos that surfaced, depicting cramped and unsatisfactory living conditions for the tens of thousands of these illegal immigrants.
These photos prompted some like Representative Lucille Roybal-Allard (D-CA) to comment, "…these are important photos, and they tell a tragic story: our country is facing a child migration crisis."
Legislators and citizens across the United States have been debating potential solutions to this crisis.
Representative Mike Rogers (R-AL) believes that these massive numbers of children, which are expected to reach 90,000 by the end of September, should be deported. "Why aren't we putting them on a bus like we normally do and send them back down to Guatemala?" he asked Homeland Security Secretary Jeh Johnson, according to The Huffington Post. Other republican legislators, such as Representative Jeff Duncan (R-SC) believe that it is not the responsibility of border agents to be caring for these children.
However, many Democrats are against immediate deportation and have even "announced a bill that would prevent minors and people with mental disabilities from facing immigration judges alone," according to the Huffington Post. This Vulnerable Immigrant Voice Act would provide lawyers to those minors who are expected to face deportation hearings.
However, reports have surfaced claiming that the White House says that since most of the unaccompanied children at the US-Mexico border will likely not qualify for humanitarian relief, they will be sent back to their home countries. (If they do qualify for humanitarian relief, then that would avert them from being sent home.)
Reuters reported that more than 40 Central American children were expelled from the United States on flights to Honduras, Guatemala and El Salvador on Friday, as the U.S. government stepped up its deportation of illegal child migrants.
This was the second group of immigrants sent back, after the first group arrived in Honduras last Monday. These proceedings took place after President Obama vowed to speed up the return of illegal immigrants back to their countries.
According to administration officials, President Obama will be meeting with Honduran, Guatemalan, and El Salvadorian leaders next week to discuss a variety of issues regarding the unaccompanied minors.