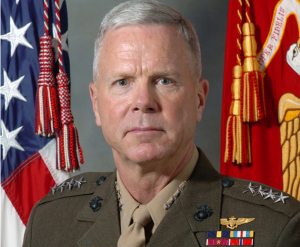 1. How did you first get interested in military affairs?
My father was a career Navy officer, and I grew up with a strong admiration and respect for those who served in the military. That admiration and respect turned into a desire to serve in the Navy myself, and then eventually led me to become a Marine.
2. What has been your proudest professional achievement?
My career as a Marine has been filled with amazing experiences, but I would have to say my proudest moment to date was leading Marines in combat while serving as the Commanding General of the 3rd Marine Aircraft Wing in 2003. The warriors of that unit epitomized selflessness, dedication, and courage…it was an honor leading young men and women who were willing to make remarkable sacrifices in defense of our nation.
3. What is your perspective on the concept of leadership?
My perspective on leadership can be briefly summarized in four points: 1) be yourself. 2) Always work hard. 3) Listen to the ideas and opinions of those who work for you…they are the ones in the trenches. 4) Seek wise counsel from those who have held the position before you.