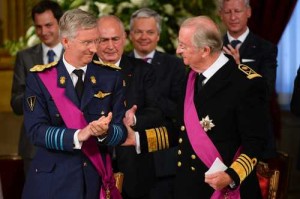 By: Andreja Durdina
The 79-year-old Belgium King Albert abdicated in favour of his son Philippe at a solemn ceremony in the royal palace's after saying he felt too old and too fragile to continue to reign.
Belgians shouted "Long live the king" to welcome their new monarch to the throne on a sunny national holiday. There were also some republicans in the crowd who came dressed as kings from the Middle Ages in protest against the royal family. "We are in the 21st century today and we think that we have no problem with a king, but there is only one place where he belongs and that's in fairy tales.
Philippe will face a tough task in the coming months. The fractious nation, ever-more divided by language, holds parliamentary elections in June 2014 amid calls for even more autonomy for the 6 million Dutch-speaking Flemings and 4.5 million French-speakers. The monarchy could find its role even more diminished.
"I swear to abide by the constitution and the laws of the Belgian people," Philippe said in the country's three languages – French, Flemish and German. "I am aware of the responsibilities weighing on my shoulders," he later added.
After the ceremony in the royal palace, people lined the streets for a traditional parade. The medieval cathedral of Saint Michael and Gudula was packed with Belgian government and other dignitaries, but there were no foreign guests in attendance. But worries persist that the shy and often awkward prince Philippe may lack the political skills of his father to maintain unity in a nation deeply divided.
During his two decades at the helm, Albert II helped steer the country through several crises and avoid break-up. He played a key role to end its longest political crisis in 2010-2011 when the country went through a record-breaking 541 days without a government.
President Barack Obama sent the new king congratulations. "The president also sends his heartfelt appreciation to King Albert II for his warmth, service, and leadership as he steps down after nearly 20 years," the U.S. government statement said. "Belgium is a valued friend of the United States, and the president looks forward to continuing to deepen this bond in the years to come."